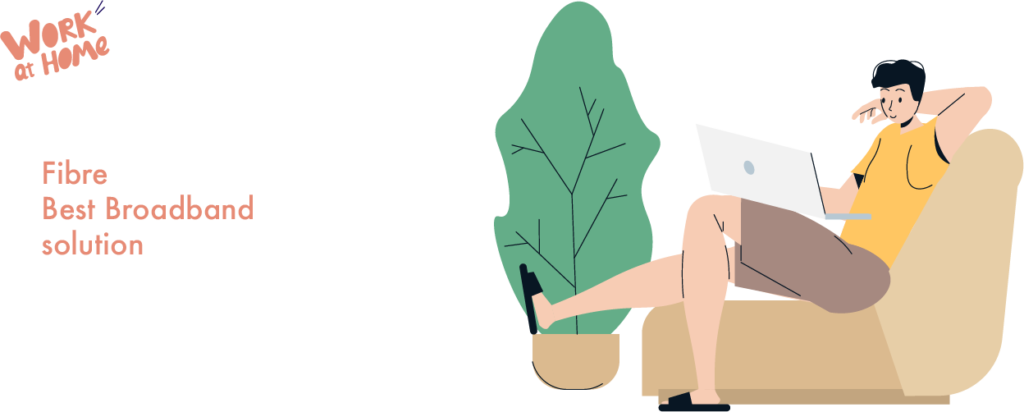 The Ultra-Fast Broadband initiative is a New Zealand Government program of building fibre-to-the-home networks covering 87% of the population by the end of 2022.
Fibre is the best broadband available on our network, delivering the fastest speeds. A dedicated and consistently reliable connection means everyone can do what they want, when they want, without interruption. Both copper - which you will have traditionally used to get online - and fibre provide a dedicated fixed line to your house - they just use different technology to do it. Copper transmits data via electrical signals while fibre sends data as pulses of light. Fibre performance does not degrade over distance, so your broadband speed is consistent no matter how near or far your home or business is located from the exchange or cabinet. With fibre plans of 100Mbps or more, you can use multiple devices simultaneously to watch, listen, play, post, work and chat all at the same time without any loss of quality or buffering. Because it's a new technology, home and medical alarms that run over your older copper phone line can be affected when you upgrade to fibre. If you have alarm services, let your broadband provider know so we can take the right steps to keep them working when you switch from copper to fibre. Try the Smartcall Broadband Checker to see what you can get at your address.
Reliability
Fibre provides a great experience with consistent speeds and no buffering even at the busiest time of day.

Capacity
Dedicated capacity for multiple devices to watch, listen, play, post, work, and chat all at the same time, without any loss of quality.

Fastest speeds
The faster your connection, the faster data moves through it. Which means you can do more in a shorter space of time.
Once Local Fiber Companies (LFC) has laid the fibre cable in your street, you need to contact Smartcall to order your connection and choose a plan that best suits your needs. Then, Smartcall places an order with LFC to connect your home to the new fibre network.
What is the LFC installation process?
The installation process starts when you place an order for fibre with Smartcall. Then, LFC begin its ABC installation process. However, every property is unique, so the steps involved in getting you connected may vary.

Agree
When we receive the order from Smartcall, LFC will get in touch to arrange for a technician to meet with you at your house to talk you through the work required and agree on your installation plan. The initial meeting with a LFC technician takes approximately an hour. Any work that needs to be completed both inside and out on your property will be noted on an agreement form completed by your LFC technician which you'll be asked to sign. This agreement covers what we need to do to get the fibre from the road to the outside of the house and where we will install your fibre equipment inside the property. LFC technician will also discuss the build and connect components of the install with you.

Build
Next LFC builds fibre from the road to your house. You don't need to be at home for this but it helps if you are contactable by phone, just in case LFC does need to make any changes to what was agreed. LFC builds the fibre from the street to your property and connect it to a small box installed on the outside of your house called an external termination point (ETP). If your existing copper phone line is connected by aerial cable or an underground pipe, LFC usually install your fibre cable in the same way. If that's not possible, LFC technician will discuss other options available and recommend the best method for your property.

Connect
Once LFC technician has built the fibre to the outside of your house, it's on to getting you connected. You will need to be home for up to four hours for this visit as LFC bring the fibre from the outside of the house, inside. The technician will take the fibre from the ETP that we installed outside your house earlier, and connect it to another small box called an optical network terminal (ONT) inside your house. This is what your modem connects to. The technician will complete the internal wiring and installation of the new fibre equipment in the agreed position as well as testing it before leaving.
Do I need consent to get fibre?
When we receive your order for fibre from Smartcall, we may need to seek consent from some parties before getting you hooked up to fibre. If your property is in a shared driveway, or in a building with multiple units like an apartment building or office block, we will need consent from your neighbours or body corporate before starting work. If you rent or your neighbours rent, approval must also be received from the property owner before installation can go ahead.
Enter your address into our broadband checker to find out if fibre is available at your place right now. If it is not available yet, the broadband checker will let you know when we expect to be building the new fibre network in your area.